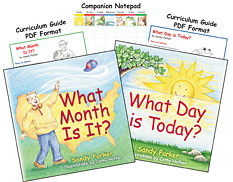 Double the Fun Bundle: Includes What Day is Today? and What Month Is It?, both Curriculum Guides (PDF format), and Notepad. Save $11.80. $26.95
Sandy's books are available in stores nationwide as well as through many on-line retailers (i.e. Amazon.com, Barnes & Noble, Books-A-Million, this website, etc.).
We strongly encourage supporting your local bookstores but realize that may not always be possible so we continue to offer website ordering.  Thanks for purchasing.


"…a beginning reader that serves double duty: a tool for young children to grasp the calendar and the passage of time. …concepts of definite shortage, especially for very young children."
- Shalar B., M.L.S.
Children's Librarian

9x9, 24 pages.
Library Reinforced Binding
Hardcover
Printed in the U.S.A.



$13.95

"…wonderful book expressing several concepts—days of week, colors, "thinking", and alliteration".


- Linda H.
Kindergarten Teacher,
Reading Specialist



" …repeated sentence patterns provide wonderful support for beginning readers."


- Carla C.
Reading Specialist

---

"...introduces several key concepts: months, geography, counting and phonics. The subject matter coupled with the illustrations is truly interdisciplinary. This treasure would make a wonderful addition to any classroom or home library."
- Dorie F.
Mother and
Elementary School Teacher

9x9, 32 pages.
Library Reinforced Binding
Hardcover
Printed in the U.S.A.



$15.95

"I love it! The best part is finding things within the illustrations. I think everyone would like it—even adults. I think all kids should have a copy."


- Nathan F.
Almost 5 years old

---

What Day is Today?
Curriculum Guide

Reinforces concepts in What Day is Today? through 4 pages of fun-filled games and activities. This guide is loaded with cross-curricular activities designed to get kids ready to read on their own and promote fluent reading. Activities are appropriate for use by teachers, parents, and librarians.

Electronic file (PDF format). After your payment is confirmed, you will
receive an email with directions to download the PDF file.
$2.95


---

What Month Is It?
Curriculum Guide

Reinforces concepts in What Month Is It? through 12 pages of fun-filled games and activities. This guide is loaded with cross-curricular activities designed to get kids ready to read on their own and promote fluent reading. Activities are appropriate for use by teachers, parents, and librarians.

Electronic file (PDF format). After your payment is confirmed, you will
receive an email with directions to download the PDF file.
$2.95


---


For Fun Ways to Use, Click Here

5x5, 30 sheets per pad.



$1.95