What Day is Today? is a fun and interactive book that introduces children to the sequence of the days of the week with adorable illustrations by Cathy Hofher! Children love to find the phonetic objects that correspond with the first letter of each day i.e., Sunday you will find stones, shadow, shoes, sailboat, etc. For more fun ideas, choose the Notepad and Curriculum Guide available for What Day is Today?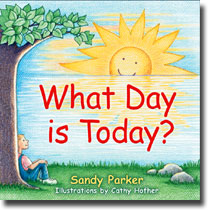 Interest Level:

Newborn-Age 8


Reading Level:

Kindergarten-1st Grade


9x9, 24 pages.
Library Reinforced Binding
Hardcover
Printed in the U.S.A.


$13.95
Don't miss
What Month Is It?
The repetition and emphasis on phonics throughout What Day is Today? is especially helpful for the early reader. The book has the reader seeing something different each day of the week and also emphasizes how each day corresponds on the calendar. What Day is Today? inspires the child to think and use their imagination to consider what they might see during their week.

The illustrations in What Day is Today? are heartwarming, inviting, and captivating. They will keep you lingering on each page. Cathy's ability to intertwine the pages in so many different ways has you looking at the pictures over and over again. Children enjoy finding the images on each page that start with the same sound as the first letter of each day.

What Day is Today? is Cathy's third book in print. To learn more about Cathy's other books go to www.inchbyinchbooks.com.

"...children loved the illustrations and repetition. It is a great calendar book."
- Laurie B.,
Day Care Provider
"I had been looking for a book to help my daughter learn the days of the week when I found What Day is Today? Other books did not help her make the connection between the words, the passage of time and the calendar. These concepts 'clicked' for her after reading What Day is Today? Her eyes light up every time we read it, she also enjoys reading this book by herself."
- Jennifer Lassner, Mother