What Month Is It? is a charming early reader that introduces children to the months of the year as a child travels to a different city/state each month. Children are introduced to the monthly calendar, United States geography, weather, counting, and more. Children enjoy finding the phonetic objects that correspond with the text on each page (i.e., in November Sam sees feasting firefighters. You can also find flowers, flag, fork, etc.) Happy hunting! For more fun ideas, choose the Curriculum Guide for What Month Is It?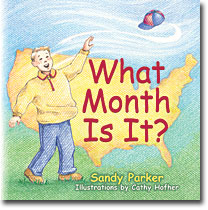 Interest Level:

Ages 4-9


Reading Level:

Kindergarten-2nd Grade


9x9, 32 pages.
Library Reinforced Binding
Hardcover
Printed in the U.S.A.


$15.95
Don't miss

What Day is Today?
Just as in What Day is Today?, this book inspires the reader to use their imagination to consider where they might go or what they might see during the year.
"encourages simple map-reading and helps reinforce knowledge of the months and seasons, all through fun, familiar images and alliteration."
- Penny Beed, Associate Professor of Literacy, University of Northern Iowa